VMF-WSUB Reactor/TCS Controller
Equipped with weight management perfusion system
for commercial regenerative medicine production
Development, Customization, and Single-use support of Exclusive Reactor in Accordance with Requirements Specifications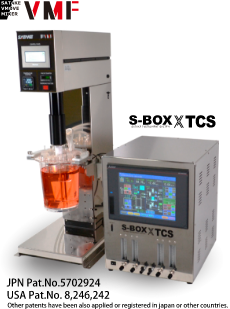 Patent No. 4316251
When using iPS cells in 3D floating undifferentiated culture for regenerative medicine, efficient culture medium replacement is important. By stopping the mixing BioReactor for culture medium replacement, cells settle to the bottom of the culture tank having the ability of arbitrarily sticking together on the spot. This process results in uneven cell aggregation (sphere diameter), sometimes adversely affecting induced differentiation efficiency. When induced differentiation is the goal, single cells are discharged along with the culture medium, making it necessary to modify the inside of the culture tank so that they are not affixed to the surface. To satisfy these requirements, clogs must be avoided and culture medium discharge must be stabilized over a long period of time. A control system is an important part of maintaining continuous, precise culture medium replacement. The VMF-WSUB / TCS system has achieved these goals and features specifications that are capable of actual production.
A perfusion system that makes long-term,
continuous culturing possible!
Long-term, clog-free operation
from undifferentiated cultures to differentiation!
■Load cell for culture tank weight measurement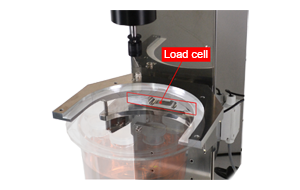 Mixing BioReactors experience frequent weight fluctuations, and this production system makes it possible to accurately gauge only the target weight inside the culture tank as well as culture medium replacement and perfusion control.
■Culture medium replacement holder and membrane set MED-CH
This culture medium replacement holder and membrane set keeps the tank free from clogging for long periods of time and offers superb practical separation of cells and culture medium inside the tank.
There are several different types of membrane section depending on your purpose.