VerSus Reactor
Collaboration of VMF Reactor/SPG membrane sparger
Development, Customization, and Single-use support of Exclusive Reactor in Accordance with Requirements Specifications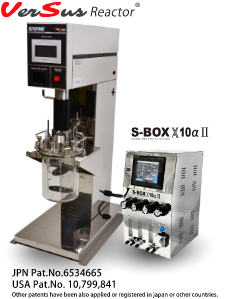 Patent No. 4316251, Other patents have either being applied for or already registered
The VerSus Reactor is a new and innovative BioReactor for animal cell culture in which the technology of "SPG membrane sparger*" by which micro-bubbles with extremely high homogeneity can be generated is fused with a VMF Reactor. Through an efficient oxygen supply by the SPG membrane sparger, oxygen can be supplied efficiently without putting stress on the animal cells in the culture tank. Also, due to a decline in the DO air flow rate, a foam layer can be prevented. With the help of the dedicated controller "S-BOX × 10α II", changes in various parameters including PI control can be easily performed.
SPG membrane sparger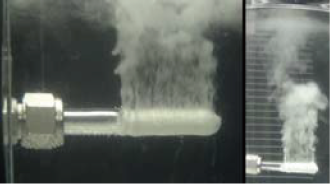 The micro-bubbles can be homogeneously dispersed inside the tank.
*SPG membrane sparger has been developed jointly by MIYAZAKI PREFECTURE INDUSTRIAL TECHNOLOGY CENTER and JGC Corporation.
We promise further improvement in production efficiency with the "VerSus Reactor" which is a collaboration of the "VMF Reactor" that controls the physical action in the cell culture tank and "SPG membrane sparger", which is an excellent micro bubble technology.
■Culture example

Comparison of production of
antibodies by CHO cells
The growth curve of CHO cells based on the presence of SPG membrane sparger is shown by using the VMF reactor. It is understood that the culture results improves significantly by using the SPG membrane sparger. Due to micro-bubbles having extremely high homogeneity, the high gas absorption performance significantly reduces the DO air flow rate, which is the cause of formation of a foam layer, without disturbing the weak flow. VerSus reactor has a significantly improved total performance.
Comparison of production of
antibodies by CHO cells
The result* of scale-up from the control quantity of 8 l to 150 l by using CHO cells having high dependability on the shear stress is shown below. Here, the actually commercially-available production of antibodies is undertaken. As a result, in the 150-l scale-up condition, either almost the same or more volume of production of antibodies than the control quantity of 8 l was obtained. This scale-up is performed by the numerical fluid calculation at a constant shear factor, and its advantage in the combined use of computational fluid dynamics and cell culture has been proved.
* The result of joint research with JGC Corporation