A single-use BioReactor
VMF Reactor 50L/200L-SUB
Development, Customization, and Single-use support of Exclusive Reactor in Accordance with Requirements Specifications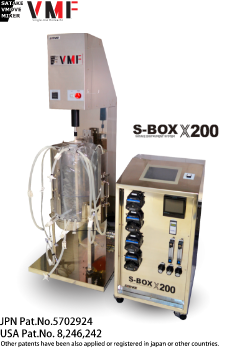 Patent No. 4316251,
Other patent pending or registered
The VMF50L/200L-SUB is a single-use BioReactor for commercial production. A lineup of 50L to 200L (proposed to be developed up to 1000L) is available, and single-use bag that supports sterilization validation is adopted. Since this is a locally-manufactured product, we guarantee just-in-time supply in small lots. With the help of the dedicated controller "S-BOX × 200", changes in various parameters including PI control can be easily performed.
Bag for single use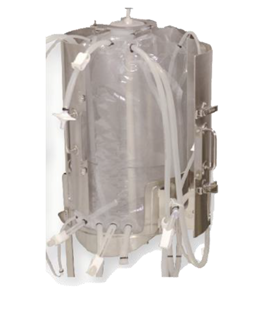 ・Since this is a 100% local product,
we can always provide a stable supply even in small lots.
・Since sterilization has already been performed, you need not perform washing and sterilization at the time of use.
・The bag, impeller, shaft, and tube, etc.
use materials conforming to USP Class VI (United States Pharmacopoeia Class 6).
SUB Series Compatible with Scalable Cell Culture
In biomedical products and regenerative medicine, etc., single use is preferred from the viewpoint of improvement in productivity and prevention of contamination. At SATAKE, we have prepared single-use products in the range of 200 ml to 200 l (we plan to develop up to a maximum of 1000 l) for various cases. Cell culture is implemented in a scalable manner from the laboratory to actual production.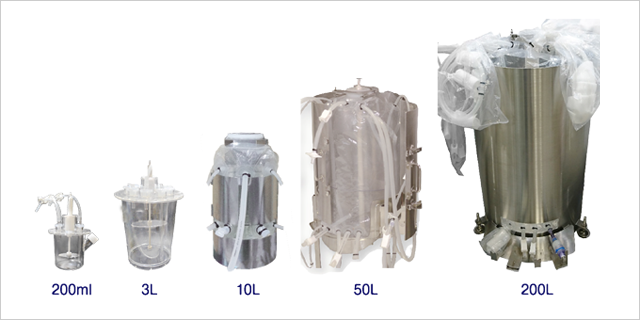 Various materials used in impellers,
bottles, and bags
Materials conforming to USP Class VI (United States Pharmacopoeia Class 6) are used. All these materials have been developed jointly by Japan's material manufacturers. Since these are Made in Japan, we promise to provide a stable supply at all times.
Sterilized standard bottles and bags
We prepare hard bottles and bags in the range of 200 mL to 200L. Since EOG sterilization for hard bottles, γ sterilization for back has already been performed, you can start using these products as soon as you receive them. We have prepared certification for each lot.
■VMF 50L / 200L-SUB Specifications
Item
Specifications
Product name
VMF Reactor
Model
50L/ 200L-SUB
Temperature control type
Clamp heater method (PI control) with excessive temperature rise prevention function
Linear-motion transmission method
Linear shaft drive non-sealing type
Ventilation type
Shirasu porous glass (SPG) membrane type / Sintered metal type
Performance
Temperature regulation range
Room temperature + 5 to 20 ° C (normally set at 37 ° C)
Temperature regulation accuracy
±0.3℃(37℃)
Max. up/down motion amplitude
100 mm
Max. impeller speed
800 mm/s
Function
Temperature setting
Digital setting
Up/down motion setting
Touch panel input
Configuration
Band heater
1.5kW
Mixing motor
Max. output 800W
Mixing impellers
Standard VM100 + VM200
Standard
Culture tank dimensions
Inner diameter 369×650 Depth [mm]
Culture tank total capacity
75L
Operating ambient temperature range
10~35℃
Outer dimensions
780W×800D×2000H [mm]
Weight
Main unit approx. 135 kg, Vessel ASSY approx. 42 kg
Rated power supply
Power is supplied from S-BOX × 200
* The performance is the value at a room temperature of 20℃, rated power supply voltage 100 VAC 50 Hz, during no load.
■S-BOX×200Specifications
Item
Specifications
Name
Culture controller
Model
S-BOX×200
Display range / accuracy
TH(Temperature)
0.0~150.0[℃]
Linear shaft (mixing)
Stroke 0~100[mm] Speed setting 0~800[mm/s]
pH(Hydrogen ion concentration)
0.00~14.00[pH]
DO(Dissolved oxygen)
0.00~10.00[mg/L]
FL(O₂flow rate)
0.0~200.0[mL/min]
Electronic balance (for supply of culture medium)
0.1[g]~61[kg]
Control setting range
TH(Temperature)
0.0~60.0[℃]
Linear shaft (mixing)
Stroke 0~100[mm] Speed setting 0~300[mm/s]
pH(Hydrogen ion concentration)
0.00~14.00[pH]
DO(Dissolved oxygen)
0.00~10.00[mg/L]
FL(O₂flow rate)
1.0~200.0[mL/min]
Electronic balance (for supply of culture medium)
0.1[g]~61[kg]
Control output
TH(Temperature)
PI Control (slope set method: Time, %)
Linear shaft (mixing)
Fixed-value control by shaft driver
pH(Hydrogen ion concentration)
On/Off control by addition of CO₂ gas, and
On/Off control selection type by alkali pump
DO(Dissolved oxygen)
Control (slope set method: Time, %)
By mass flow controller
FL(O₂flow rate)
PI Control (slope set method: Time, %)
FEED
On/Off addition by FEED pump
Culture medium supply / discharge
Supply and discharge by electronic balance and discharge pump
Recording medium
Data logger 10 ch
Power supply
1Φ 200V 30A 50/60Hz(2P+E、With hook-type plug)
Case material
SUS304 #300 Buffing, indoor type, non-drip proof, non-explosion proof specification
Installation method
Indoor stand-alone type
Outer dimensions
W550×D550×H1000 [mm] *Does not include projections
Ambient environment conditions
Temperature
Room temperature
Humidity
0~90%(No dew formation)
Utility
Power supply
1Φ 200V 30A
(2P + E, electrical outlet for 30 A hook-type plug) × 1 
O₂
Flow rate 5 l/min or less Supply pressure 0.2MPa 
Connection port Φ6 tube one-touch joint
CO₂
Flow rate 5 l/min or less Supply pressure 0.2MPa 
Connection port Φ6 tube one-touch joint
AIR
Flow rate 5 l/min or less Supply pressure 0.2MPa 
Connection port Φ6 tube one-touch joint

* O₂, CO₂, and AIR must all be dry gases that do not contain corrosive components, dust, and oil mist