A single-use BioReactor
VMF Reactor 50L/200L-SUB
Development, Customization, and Single-use support of Exclusive Reactor in Accordance with Requirements Specifications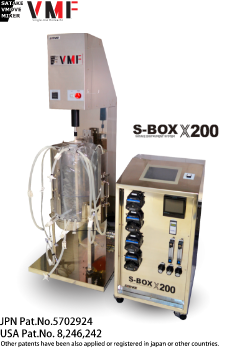 Patent No. 4316251,
Other patent pending or registered
The lineup consists of models from 50 to 200 L (development planned for up to 1,000 L) with tabletop models from 200 mL to 10 L, which are self-standing from 50 L and up. This is the largest model in the standard VMF reactor series and a commercial production device that is perfectly scalable, offering an unprecedented starting size of 200 mL. The S-BOX × 200 controller is included as a standard, offering full control over DO, pH, temperature, in-bag pressure, etc., and is equipped with four embedded pumps in a series, a dedicated internal digital data logger, Satake data logger software, and a BioReactor data collection system, etc. It also supports computerized system validation, and documents are provided for qualification confirmation during the design stage, during installation, and during operation. We also provide support for clients who are not accustomed to creating user requested specifications. We guarantee just-in-time supply in small lots of locally-manufactured single-use bags for sterilization validation. We can meet various demands required for commercial production, so please feel free to contact us.
CFD simulation analysis results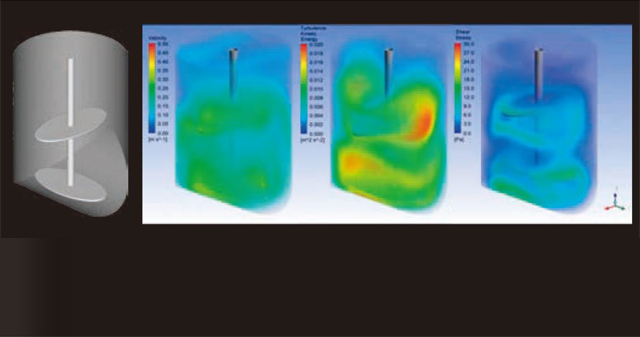 Model
Flow velocity
distribution
Turbulent energy
Shear stress
Consideration of commercial production scale-up
and utilization of numerical fluid calculation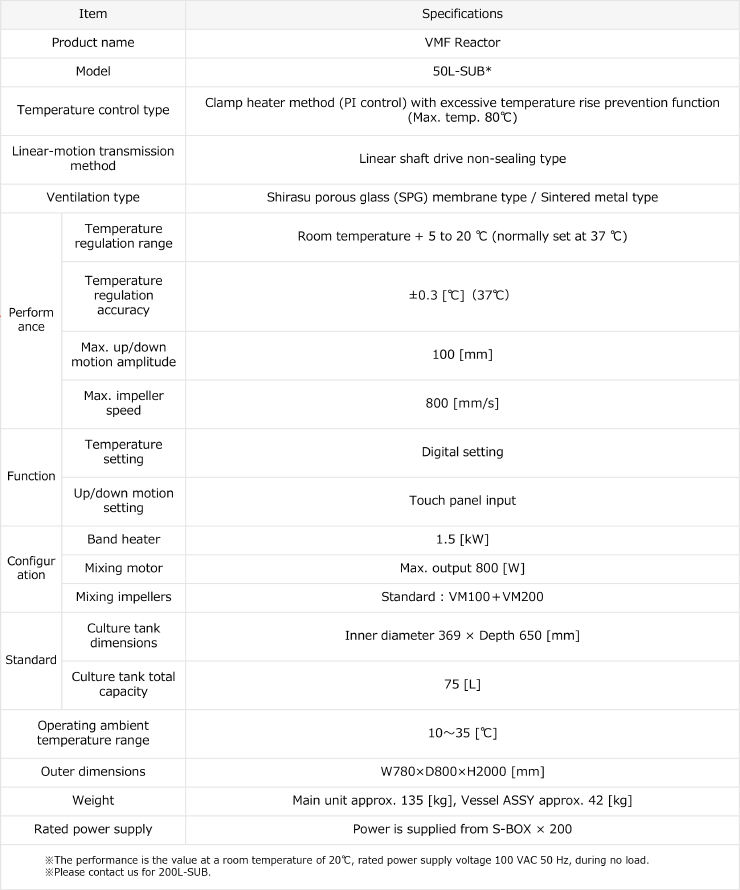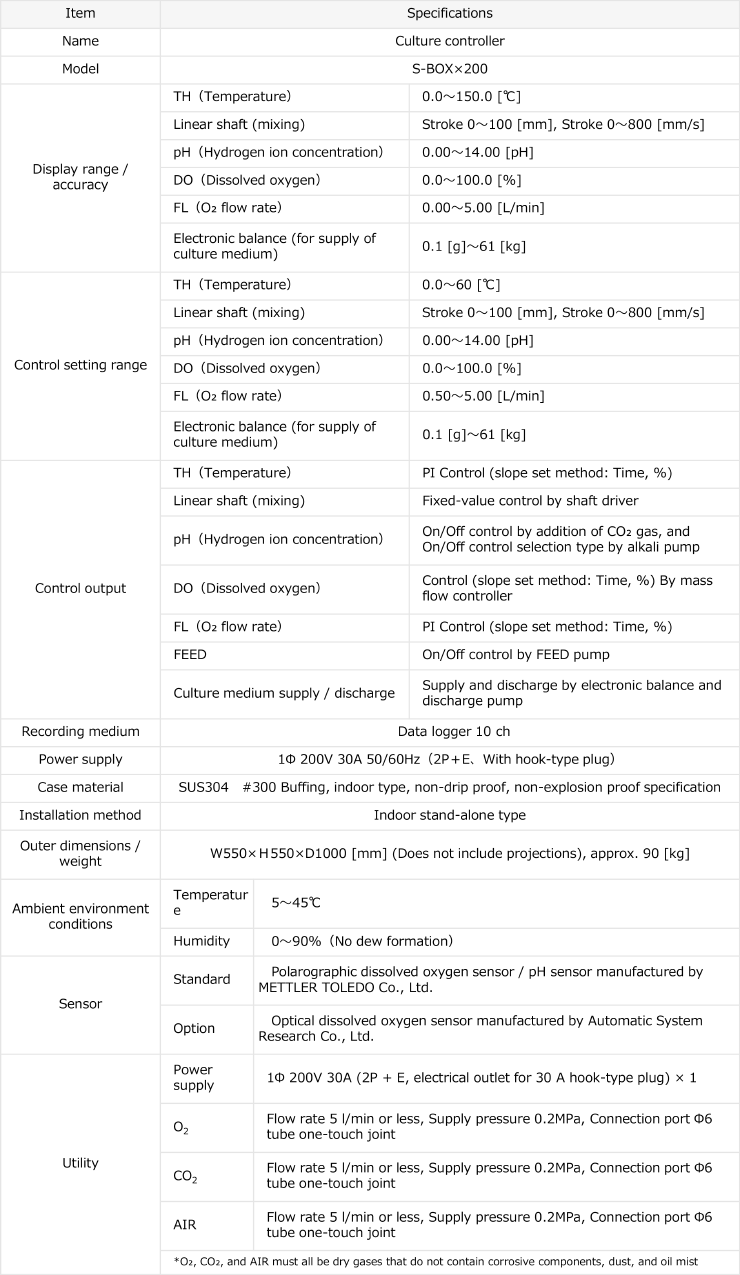 SUB Series Compatible with Scalable Cell Culture
In biomedical products and regenerative medicine, etc., single use is preferred from the viewpoint of improvement in productivity and prevention of contamination. At SATAKE, we have prepared single-use products in the range of 200 ml to 200 l (we plan to develop up to a maximum of 1000 l) for various cases. Cell culture is implemented in a scalable manner from the laboratory to actual production.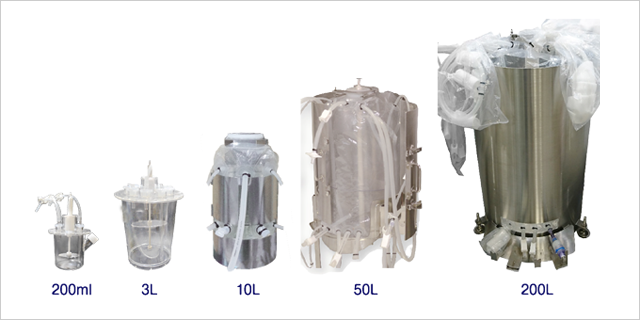 Various materials used in impellers,
bottles, and bags
Materials conforming to USP Class VI (United States Pharmacopoeia Class 6) are used. All these materials have been developed jointly by Japan's material manufacturers. Since these are Made in Japan, we promise to provide a stable supply at all times.
Proposal of application development
and customization
The single-use bag product lineup has a maximum capacity of 200 L, but we can also support bags of 500 to 1000 L capacity according to the application.
If you have a request for customized products that match the equipment, please contact us.
Sterilized standard bottles and bags
We prepare hard bottles and bags in the range of 200 mL to 200L. Since EOG sterilization for hard bottles, γ sterilization for back has already been performed, you can start using these products as soon as you receive them. We have prepared certification for each lot.
Various testing has been conducted and conformity confirmed on each material used so you can use the products immediately without worry.
Cultivation, cleaning, and concentration in a single line!
Cell concentration cleaning system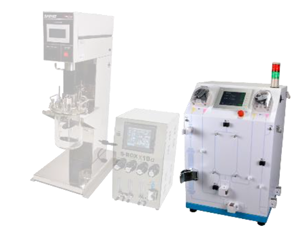 As an improvement on the cell culture system, we sell a connected, completely closed system that consists of our reactor and attached Kaneka Corporation cell concentration cleaning system. This system can be customized upon request.
From culture to cell washing and concentration, this product enables consistent processing in a closed system, streamlining the work process. A pump is built into the cell wash concentrator body, making preparations unnecessary, enabling simple installation by following the pictures and colors on the accessories and body.
Disposable Kit for Cell Concentration Washer

●Sterilization method
Filter: γ sterilization
Circuit: EOG sterilization

●Safety
Passed the test specified by ISO10993(Cytotoxicity, sensitization, intradermal reaction, acute toxicity, fusogenicity, pyrogenicity)
Cell strainer    Circulation circuit      Filtration circuit