MRF Reactor
Rotating type mixer for cell culture equipped with an MR210Bio impeller as a standard
Development, Customization, and Single-use support of Exclusive Reactor in Accordance with Requirements Specifications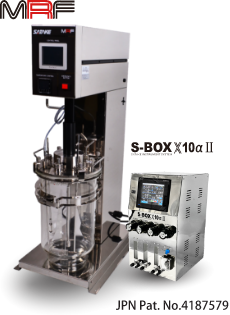 The MRF Reactor is a BioReactor for laboratory use that aim at actual production and scaling up. In addition to a "Simple shape with excellent cleaning ability" that is important for the actual equipment, the "MR210Bio impeller used exclusively for cell culture" that exhibits excellent mixing and homogenizing performance is provided as a standard, and therefore, similar culture results as during laboratory experiments can be reproduced during scale-up too. Moreover, fluid surface fluctuation (fed-batch culture) is supported, because of which the same mixing performance is exhibited no matter how much the liquid volume. A wide range of liquid volumes from small volumes like 1.5 L to large volumes of 20,000 l can be supported.
With the help of the dedicated controller "S-BOX × 10α II", changes in various parameters including PI control can be easily performed.
Mixing Impeller Super-mix MR210Bio Used Exclusively for Cell Culture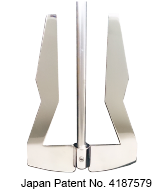 ・Exhibits high mixing performance at low shear
・Simple shape with excellent washing ability
・Completely compatible with fluid surface fluctuation
・The same culture results as in the laboratory can be reproduced during scale-up too.
An environment that is best suited for cell culture is created through excellent mixing performance.
■Flow condition inside culture tank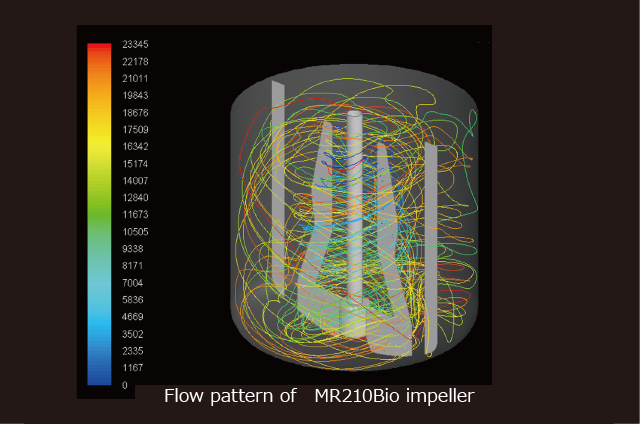 CFD Simulation Analysis Result
The "MR210Bio" impeller developed exclusively for cell culture produces a high circulating flow that runs from the low-pressure area at the bottom of the blades, where the mixing homogeneity inside the tank is high, toward the top of the tank. As a result of this feature, a high homogeneity and fluidity are obtained even at low power and low rotation, and at the same time, the basic flow pattern does not change even when the fluid surface fluctuates. It is known as an impeller used exclusively for cell culture that adapts to unsteadiness, which was not seen in the past in any impeller, and is suitable for operation under conditions where the fluid surface fluctuates as a result of fed-batch culture. A high circulation performance can be seen from the CFD simulation analysis results.
■Culture example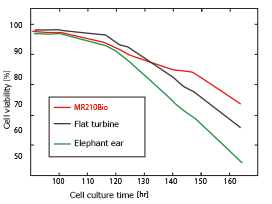 Comparison of the cell viability in the later stage of the culture by CHO cells
Here we show the cell viability in the later stage of the culture under the batch cell culture condition for the turbine type (flat turbine) and wide paddle type (elephant ear) impellers used in the conventional rotating type BioReactor. It can be confirmed that the MRF reactor maintains a higher cell viability than the other conventional impellers in the later stage of the culture. A characteristic of the MR210Bio that has a low shearing action and high mixing homogeneity performance is the realization of scale-up to a large-size reactor through the combined use of numerical fluid calculation.