HSF Reactor
High-performance BioReactor with the high-efficiency turbine HS100 / high-discharge axial flow impeller HR100 as a standard
High-Efficiency Turbine, In-Tank Coil Heat Transmission Specs, Dedicated for Actual Machine Scale-up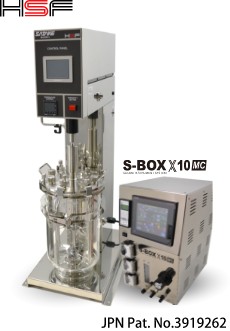 The HSF Reactor is a jar fermenter designed for comparatively low-viscosity microbe cultures, plant-based cultures, fungal-based cultures with high viscosity that show non-Newtonian properties, E. coli cultures, etc., in which target cells and bacterial cells have a comparatively strong shear factor, and cultures that require high OTR. It comes with the high-efficiency turbine HS100 and high-discharge axial flow impeller HR100 as a standard. Optimization is possible for scaling up to large-capacity tasks when paired with the S-BOX series controller for culture control.
An optional cooling chiller can be attached, and when using a heat transfer coil type similar to the actual machine, you can achieve conditions that are closer to the actual machine. As a specialty manufacturer of mixing device with the only dedicated mixing technology laboratory in Japan, we can apply final optimizations for actual machine and customize the device according to the physical properties of its contents.
High performance turbine impeller and axial flow impeller are standard specifications
■HS100 turbine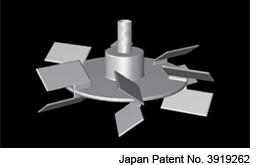 The HS100 turbine achieves an extremely low power number (Power number ratio to 6FT: approx. 65% reduction). Liquid fluidizing action is improved compared to conventional turbines, along with high-performance gas absorption (KLa). Impeller lift at low power creates more focused flow, utilizing pressure gradients and fluctuations of the discharge field to produce powerful shearing and destructive action. When paired with the high-discharge type HR100 Impeller, this impeller achieves overall incredibly highly efficient in-tank liquid fluidizing action, shearing, and destructive action (gas dispersion).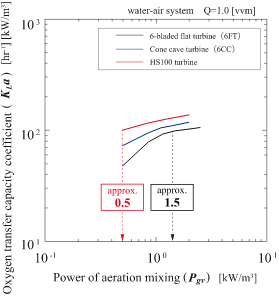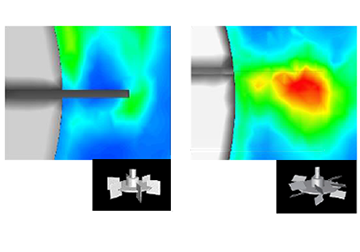 Comparison of gas
absorption performance (kLa)
6 flats
turbine
HS100
turbine
CFD flow analysis result near the blade
(blade cross section)
■HR100 Impeller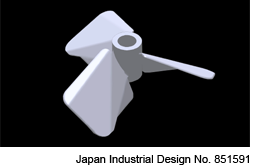 In addition to considerations regarding the plane shape of the impeller, the angle of attack, and the camber ratio, the HR100 Impeller features a multistage curved structure, and suppressing separation on the rear surface of the impeller results in an energy-saving, low-shear type axial flow impeller that boasts high discharge performance at low power. This product excels at liquid-liquid mixing, solid-liquid dispersion, uniform suspension of particles that are fragile and lightweight, emulsified micro-capsules (latex, etc.), and is effective in combinations that utilize superior axial fluidizing action in multi-stage mixing.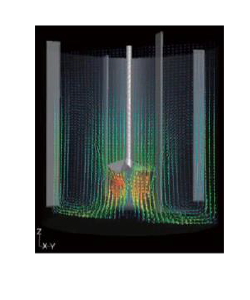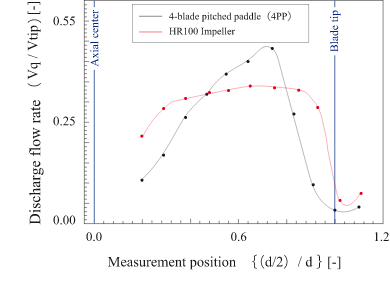 Flow pattern of the HR100 Impeller
Discharge performance by LDV
(compared with conventional 4PP model)
Example of 200 kL Actual Machine CFD
Simulation Analysis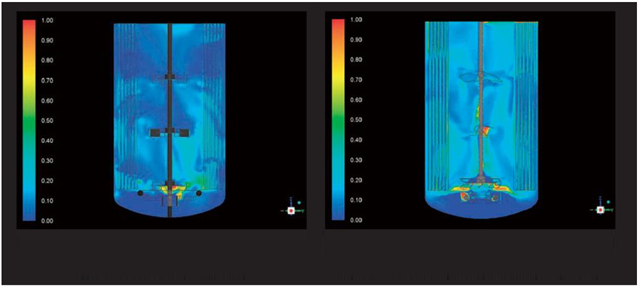 Conventional model: 6-bladed flat turbine triple stage
Satake model: HR100 double stage + HS100 single stage
Gas dispersion comparison results via multiphase flow model (Euler-Euler)
of 200 kL culture tank in CFD simulation
When using the conventional 6-bladed flat turbine in multi-stage within a culture tank, the flow is divided creating conditions that are not favorable to uniform dispersion inside the culture tank. With this in mind, a new, high-performance BioReactor is created by utilizing the flow action in the axial direction of high-discharge axial flow impeller HR100 on the top of the tank in combination with high-dispersion turbine HS100 on the bottom of the tank for gas dispersion action, resulting in uniform dispersion inside the culture tank and high-performance gas absorption. HSF reactors are suitable for lab-scale consideration from 3 to 10 L, and can also be scaled up to production machines (large capacity) at the same requirements.
Super-mix® HS124ND, HS134ND Turbine

HS124ND
Patent No. 6159577
HS134ND
Patent No. 6159577
Ultra high-efficiency turbines HS124ND/HS134ND boast gas absorption performance that exceeds even that of the high-efficiency turbine HS100. The upper and lower impellers create effective discharge action, achieving a high level of gas absorption performance and required OTR. Technology that delivers the world's highest gas absorption performance and required OTR is available at laboratory scale in 200 - 300 kL-class actual machines.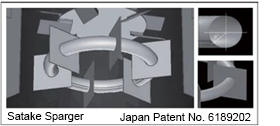 Satake Spargrt Patent No. 6189202
The Satake Sparger is designed with gas discharge direction in mind so that aerated gas passes near the impeller, which is where the shearing field is located. Also, a stationary impeller is attached to the ring, and increasing the velocity gradient of the flow improves shearing and destructive action. Furthermore, the stationary impeller strengthens the discharge action. These actions efficiently disperse gases.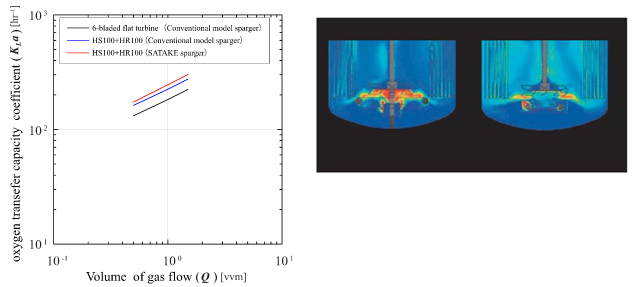 Conventional Sparger
SATAKE Sparger
200kL-F culture tank simulation results
Gas-liquid multiphase flow gas fraction analysis
The Satake Sparger is effective when paired with the HS100. The synergistic effect with the optimized mixing impeller significantly improves the gas dispersion action, increasing gas absorption performance. (According to Satake Chemical test results)