HiD 4×4
3D floating iPS cell differentiation induction BioReactorr
Development, Customization, and Single-use support of Exclusive Reactor in Accordance with Requirements Specifications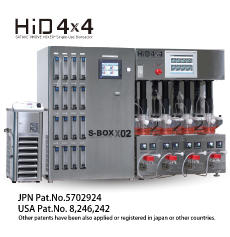 Patent No. 4316251, Other patents have either being applied for or already registered
The HiD 4 × 4 Reactor is the world's first "Single-use mixer for 3D floating cell cultures" used exclusively for iPS cell differentiation induction. A BioReactor that achieves a high-volume production of uniform and homogeneous iPS cells is indispensable not only in regenerative medicine, but also in the "Use of human iPS cells in drug development" that aims at industrialization and commercial production. By promoting joint research and development with excellent research institutes or companies in Japan, we have succeeded in commercialization an iPS cell differentiation induction BioReactor for the first time in the world. 4, 8, 12, and 16 (or even more) such BioReactors can be controlled in a consolidated manner, and these are also best suited for screening. Moreover, we have also taken into consideration the adaptation to ES cells while performing development. With the help of the dedicated controller "S-BOX × 02", changes in various parameters including PI control, and production control in accordance with the purpose can be performed.
Dedicated single use bottle
This product features a 200 mL single-use bottle as a standard, making it perfect for upscaling and commercial or industrial production. It is designed not only for safety, but with a focus on usability for more efficient culturing.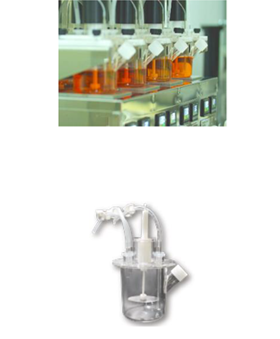 Various materials used in impellers, bottles, and bags
Materials conforming to USP Class VI (United States Pharmacopoeia Class 6) are used. All these materials have been developed jointly by Japan's material manufacturers. Since these are Made in Japan, we promise to provide a stable supply at all times even in small lots. There is no need to have a lot of Inventory due to the supply risk caused by overseas products.
Sterilized standard bottles
The bottles have already undergone EOG sterilization.
We have prepared certification for each lot.
An elution certificate can be provided (at an additional charge) upon request for production specifications.
Options
In principle, single-use bottles are provided only with a tube. Installation of the pH sensor and DO sensor will be performed in the clean bench. Contact separately if you want a non-contact sensor. We offer several optional products such as the continuous culture medium supply system, supply culture medium 37℃ adjustment system, bags provided as accessories, mechanism for humidity adjustment of gas flowing inside the cell culture tank, etc. We can also comply with special specifications. Please consult us for more details.
Dedicated data logger / software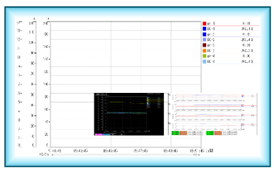 Using a dedicated data logger connected to a computer via Ethernet cable and Satake Chemical proprietary software, you can set an interval at which to acquire data on changes over time such as DO, pH, temperature, O2 flow rate, frequency, and number of revolutions during culturing, which can then be saved in CSV format.