Research and Development Philosophy
Honoring the wisdom of our predecessors, placing our feet firmly on the ground and keeping our eyes on the future Be a pioneer who opens up new paths with the dignity of a researcher
Honoring the wisdom of our predecessors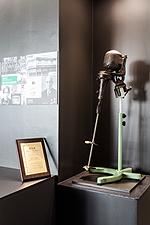 We relaunched as a new Mixing Technology Laboratory in 2016, and provide solutions for solving various problems, such as computational fluid dynamics (CFD) specialized for mixing, finite element method (FEM) specialized for mixing equipment, and their coupled calculations, and coupled calculations for culture and crystallization reactions.
We are equipped with a clean room for culture research and provide solutions that enable adaptation from small scale to commercial production scale, such as contract culture evaluations that we consider with customers concerning animal cell cultures.
We honor the wisdom of our predecessors to provide technology that will satisfy our customers.
We place our feet firmly on the ground and keep our eyes on the future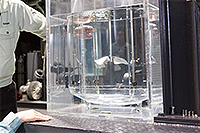 In order to strive daily to solve the "themes" that are currently given from the market and customers, we work with our feet placed firmly on the ground, without turning away from the challenge, no matter how hard. However, time moves on relentlessly, and this moment is already in the past at the next moment. If you think only of now and your thinking stops there, you tend to think negatively in terms of "How can I avoid this?" or "How can I refuse this?" when faced with difficult demands.
If you can imagine the world ahead of now, you will think positively and believe that you can solve the problem already. The time it takes to think "How can I proceed?" and to think "How can I avoid this?" is the same. If you are going to think for the same amount of time, think about how you can proceed.
We never stop thinking, we always look to the next stage while placing our feet firmly on the ground we have built up, and we work on solving the "themes" currently required from the market and customers.
Be a pioneer who opens up new paths with the dignity of a researcher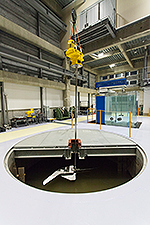 All members of the laboratory will conduct research and development work with self-confidence and pride, or "dignity" as Satake researchers. Without pride in the responsibilities given to the company and individuals there is no way to do a good job. As a result, we cannot provide the results that the market and customers desire.
Having this dignity makes it possible to abandon self-advantage and become a truly professional technical group aiming for social contribution and the stability of the world with a humble heart.
We will be pioneers who open up new paths for innovation with the dignity of Satake researchers, creating a future that can satisfy our customers.