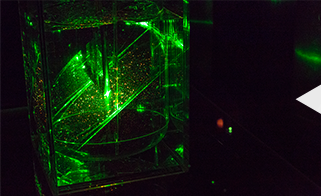 To respond to diversified and advanced demands
At the Mixing Technology Laboratory, we conduct both fundamental and applied research on matters related to mixing and developing new technologies linked to products. Also, for flow analysis in the mixing tank, we have established proprietary world-leading experimental analytical methods and analytical instrument groups.
Mixing Technology Laboratory Organization
We have established a solid research organization structure to provide products and services that satisfy our customers.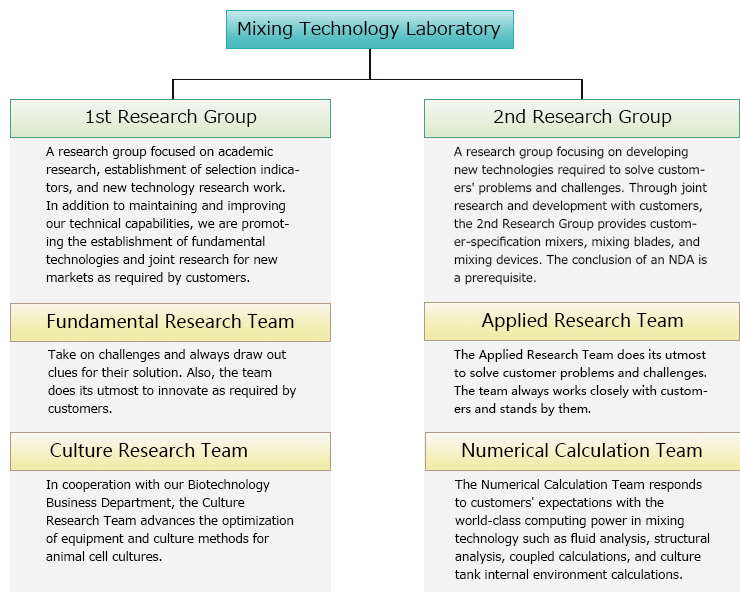 Fundamental Research Team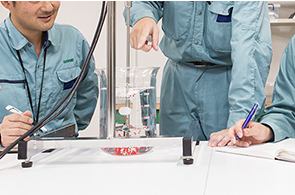 Mixing has diverse purposes, such as uniform mixing, mass transfer, and heat transfer. Understanding these phenomena is indispensable for technological development and optimum equipment selection to meet customer's needs. The Fundamental Research Team elucidates the mechanisms of various phenomena occurring in a mixed tank from both the theoretical and experimental point of view. The team works on a daily basis to build a foundation that supports Satake's unique mixing technology. In addition, based on its accumulated knowledge, the team also makes efforts aimed at rapid technology development and creation of applications in new growth fields, while aggressively pursuing technology collaborations with different industries through open innovation.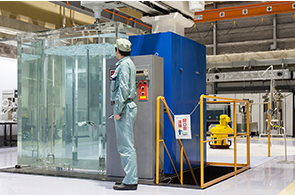 Mixers are used in various fields, but the main task is to research and develop new equipment and systems to meet the needs of sophisticated customers. The team gains understanding of the mixing state and mixing action using fluid analysis technology, and develops efficient mixing blades and optimum operating conditions based on fluid engineering. In addition the team offers solutions based on mixing technology to scale up to actual machines.
The team is constantly working on improving mixing performance and energy conservation and making mixers that satisfy our customers' goals on a daily basis.
Numerical Calculation Team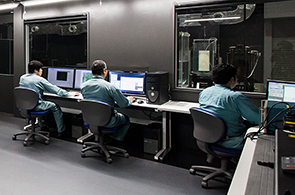 For the purpose of the performance inspection of the dasher and examination of the scale-up, it is CFD(Computer Fluid Dynamics: I work on analysis of the fluid motion by numerical value hydrodynamics).
In addition, it is structure analysis and FSI(Fluid Structure Interaction: I examine Fluid structure coupled analysis) as needed and fix the environment that can evaluate the influence that a fluid gives to structure from different angles.
In late years the needs about the evaluation of the mixing facilities which the visitor holds increases and meets the demand from the side of the trust calculation.
In recent years, biopharmaceuticals such as antibody drugs have attracted attention in the pharmaceutical industry. In the Culture Research Team, in order to contribute to the efficient production of drug substances for biopharmaceuticals, we are working on research and development for original BioReactors from the viewpoint of a mixer manufacturer. Making full use Satake's know-how based on years of mixing research and its proprietary scale-up technology using the latest fluid analysis, we can realize seamless industrialization from laboratory to production machine. Customers operate diverse cell lines, and each has its own suitable flow. At Satake, we also undertake contract culture services to find the optimal flow for each cell line.