Mixing Technology Laboratory
Established "Mixing Technology Laboratory," the only lab in Japan specialized in mixing research in 1987. In February 2016, we relaunched the lab as a Mixing Technology Laboratory for the new era, adding large test tanks for actual machines scale-up verification, an OA / presentation rooms, a fundamental experiment room, a clean room, and a CAE room, etc., to the existing facilities.
We will further advance fundamental research on mixing, joint research and development with users, and new product development, and propose optimum mixing technology to match a wide range of needs.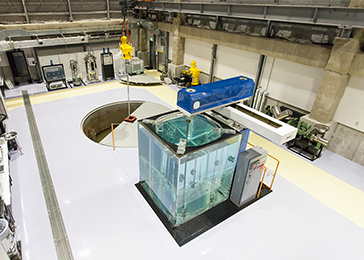 1st Test Yard
The 1st Test Yard has a large 70 t test tank and a 6 t acrylic tank with visible flow state permanently installed.
It is the largest test yard within the laboratory and we can conduct testing under conditions closer to actual machines.
The 70 t test tank is built-in underground so that researchers check the flow state from the basement. An underground pit is also constructed for the 6 t acrylic tank, and observation from the bottom of the tank is possible.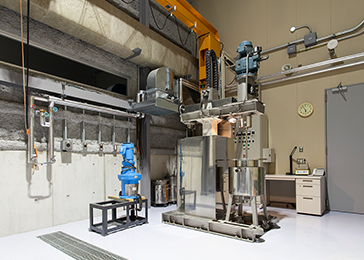 2nd Test Yard
In the 2nd Test Yard, we can conduct order/inquiry tests for the purpose of optimizing or scaling-up the operating conditions of the mixer using the actual liquid or a simulated liquid, in the presence of the customer.
This yard is the only part of the laboratory with a powerful exhaust facility and a complete fire protection zone.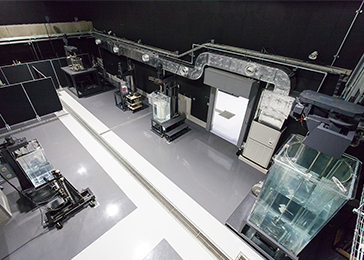 3rd Test Yard
The 3rd Test Yard allows verification of fundamental research on mixing and joint research and development with users in more detail.
Seven tanks from 10 L to 2000 L are permanently installed in this yard, and torque measuring instruments are built in to all mixing test equipment installed on the tanks.
In addition, there is a stainless steel tank with temperature regulation and steam facilities to support heat transfer and crystallization tests, enabling us to handle mixer research and development for a wide range of fields.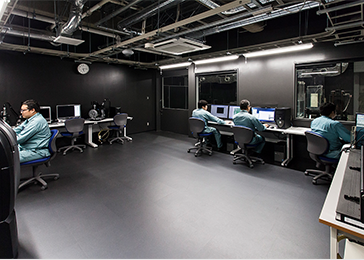 Measurement room
In addition to a laser doppler velocimetry (LDV) device, and particle image velocimetry (PIV) and particle tracking velocimetry (PTV) devices, the laboratory has devices such as 3D printers, microscopes, and scanning electron microscopes (SEM).
Moreover, it is possible to produce real items using the 3D printers for the calculation models created by CFD simulation. We also conduct numerical calculations and verification experiments using the same models, so we can perform everything from CFD simulations to verification experiments under one roof.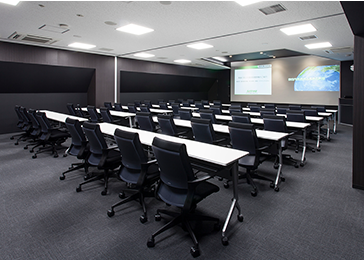 Presentation room
An open and spacious OA / presentation room. Mainly used for events, tours and internal meetings.
(Maximum occupants: about 50)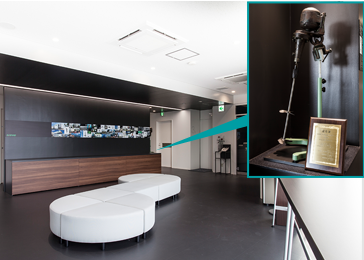 Foyer / Certified mixer as Heritage of Analytical and Scientific Instruments
The history of Satake from its founding to the present is described on the wall of the foyer.
The mixer on the upper right of the photo is a 1956 version of the portable mixer (current name: Portable Mixer) that was first released in 1930 and is still being updated. It is the oldest existing mixer. It was approved as a historically precious "Heritage of Analytical and Scientific Instruments" by JAIMA in 2013 and it is exhibited in the foyer.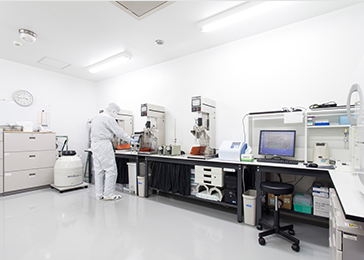 Clean room
In the clean room, we use a rotary BioReactor (MRF reactor) equipped with our own proprietary MR210 bio impeller as standard equipment, next-generation vertical motion mixing BioReactors (VMF reactors), and VerSus Reactors that combine the VMF reactor with an SPG membrane sparger to cultivate animal cells. In fact, we do not only evaluate equipment and conduct research themes using cells, but also conduct contract culture evaluations according to users' requests.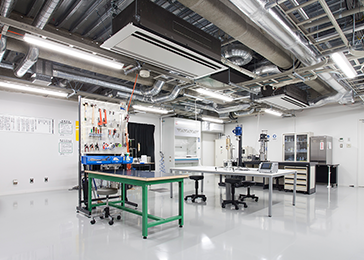 Fundamental experiment room
In the fundamental experiment room, we can carry out detailed experiments at laboratory scale up to 10 L class.
In addition, there is a local exhaust facility (draft chamber) to ensure that researchers can work safely.
There are permanently installed small mixers such as a mixing torque meter "ST-3000 II" for laboratory experiments and a super shear mixer.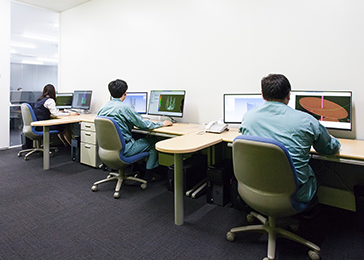 CAE room
The CAE room has many engineering workstations (EWS), multiple calculation process / calculation software, and performs numerical calculation tasks for internal research and development, mixer selection and design. All kinds of advanced calculations such as fluid calculations, structural calculations, thermal analysis and coupled calculations for multi-phase flow / heterophasic systems are possible.
We also conduct contract numerical calculations to respond to customers' complex needs.