From one-sided proposals to two-way solutions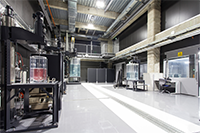 We relaunched as a new Mixing Technology Laboratory in 2016, and provide solutions for solving various problems, such as computational fluid dynamics (CFD) specialized for mixing, finite element method (FEM) specialized for mixing equipment, and their coupled calculations, and coupled calculations for culture and crystallization reactions.
We are equipped with a clean room for culture research and provide solutions that enable adaptation from small scale to commercial production scale, such as contract culture evaluations that we consider with customers concerning animal cell cultures.
Our laboratory is complete with test yards that allow customers to bring in actual liquids and conduct mixing evaluations. We provide solutions for achieving customer goals by conducting mixing evaluations, mixer selection, and basic design for moving from small to commercial scale.
In terms of laboratory equipment, in addition to dynamic mixing measurement, we have LDV, PIV and PTV system fluid analysis equipment, and mixing experiment tanks from 10 L scale to 70 m3 scale. In order to respond to the requests of our customers, we provide solutions to realize the optimum mixer development and mixing conditions suitable for individual customers after concluding an NDA.
We have moved from being a mixer manufacturer laboratory to a laboratory that seeks out and provides a bi-directional solutions together with our customers.
Something like this... is also OK. If you want to talk, please contact us.