To the young next-generation researchers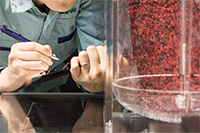 Free culture..., Free research and development environment... we often see and hear this. It certainly is a company that has these qualities and I think that it is a wonderful workplace. As with such workplaces, our laboratory is also a free environment, and it can be said that it is a happy environment in which people who say "I can do it!" can fulfill their potential to the utmost. However, if you think freedom sounds easy, you are making a big mistake. Easy freedom can be called "doing what you like."
Freedom comes with strict evaluations of responsibility and achievement of targets.
In the laboratory, as a research institute of a profit-making organization, we aim at the targets we are assigned according to company policy, and within this we promise to "feel freely, think freely, and act freely."。

If you can enjoy fighting with a difficult theme or a technically high wall, it is a laboratory where you can really be happy, and the catchphrase is, rather than worrying, just say "Let's do it anyway!"
There is no field in this world that does not require a mixing operation. We talk with researchers who will be responsible for the next generation about current technology to produce and mix fluids with impellers, and new, as yet undeveloped technologies that can break through the status quo of today's technology, and we sincerely wish to show this to all of you, who are the hope for the future.
If you are thinking "Maybe I will try..." please join with us to create dreams for the never-ending future.