Mixing Technology Laboratory for customers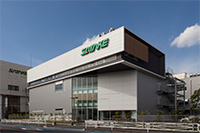 In line with Satake's management philosophy of "Respecting the creative spirit, making full use of bold action, always being a shining example of the industry," we are a development company that takes on new challenges. With all employees aligned to this culture, the laboratory has always been at the forefront in order to put "customers first" and "contribute to society" since its founding as the first mixing technology laboratory in Japan in 1987. Meanwhile, the demand for mixing technology from customers has changed dramatically.
Japan has become a mature society following the high growth of the post-war period, with more and more large-scale production plants moving overseas, and domestic demand for advanced mixing technology with higher added value.
The laboratory is a technical group centered on "Constant innovation!" "Free thinking not bound by form" and "Just take action" in order to respond quickly to such changing demands of the times.
As a laboratory specialized in mixing, we focus on basic research on mixing, applied research, collaborative research and development with customers, development and innovation of new technologies so that we can always provide results that satisfy our customers.
We welcome you to make use of our capabilities for research and development in your own field.